The 1991 Ramon Magsaysay Award for Public Service

Ramon Magsaysay Award Presentation Ceremonies
Manila, Philippines, August 31, 1991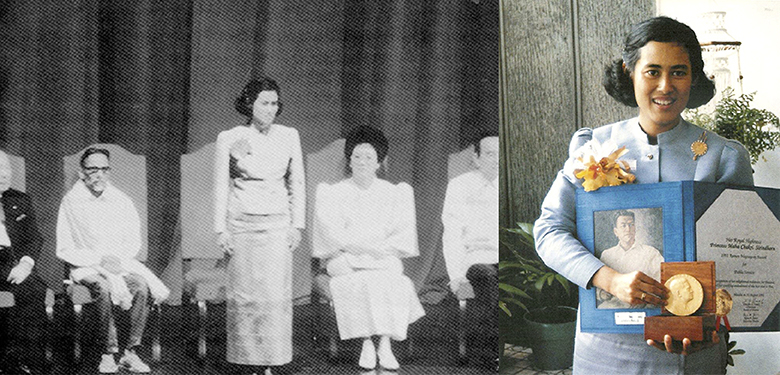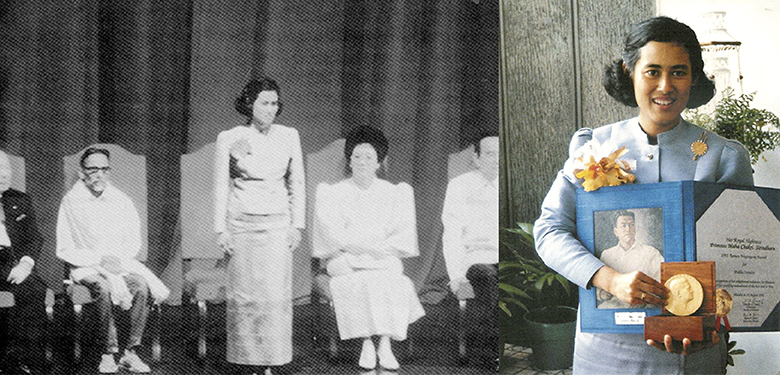 …Embracing all things Thai, HER ROYAL HIGHNESS PRINCESS MAHA CHAKRI SIRINDHORN has become a force for cultural preservation. At her initiative, dying handicraft skills are once again being passed from master to apprentice, shadow plays rejuvenated, sacred temples restored, and classical works of music recorded for posterity. She herself plays several Thai instruments, preferring the ranaad-ek, a solo wooden xylophone till now played almost exclusively by men. By singing and performing in public with Thais of all walks of life—unthinkable for royal women of the past—she has helped spur an unprecedented revival of traditional music.

Educated from grade one through her doctorate entirely in Thailand, PRINCESS SIRINDHORN has interests ranging from classical Asian languages to modern educational techniques and theories. In 1984 she mastered remote sensing technology—a tool for studying Thailand's beleaguered environment—and today she teaches history at the Royal Military Academy. As an inveterate world traveler, she generates esteem for her country abroad. The books she writes about her travels become best-sellers, and the proceeds from them she donates to needy children.
Of all things Thai, PRINCESS SIRINDHORN most of all embraces Thai children. Through a foundation she started, many of Bangkok's orphans and unwanted children receive attention and find new homes, while hundreds of refugee children are cared for by the Thai Red Cross, which, with her mother, she leads. Also, through her efforts, deaf and blind children throughout Thailand now have special schools, and thousands of pupils in remote border areas receive nutritious lunches and learn self-reliance by growing their vegetables. Generous with her own purse, PRINCESS SIRINDHORN inspires generosity in others. Her projects are well funded and well managed. Moreover, to Thailand's children she is not a distant benefactor. She takes stock of their progress personally, visiting them everywhere she goes and bringing them cheer.
Cheer is perhaps PRINCESS SIRINDHORN's most pervasive gift to all the Thais. They are cheered by her modesty, for she speaks softly and spurns ostentatious make-up and clothing. They are cheered by her seriousness, for she turns away from idle celebrity to devote herself to service. Not least they are cheered by her cheerfulness. In the smiling PRINCESS SIRINDHORN, Thais find an image of what they themselves aspire to be: a people moored happily to their traditions, yet treading confidently in the modern world.
In electing H. R. H. PRINCESS MAHA CHAKRI SIRINDHORN to receive the 1991 Ramon Magsaysay Award for Public Service, the Board of Trustees recognizes her making her royal office an instrument of enlightened endeavor for Thailand, and her sparkling embodiment of the best that is Thai.