Honorable Plaque for Her Dedication and Outstanding Leadership in the Program of Sustainable Elimination of Iodine Deficiency Disorders in Thailand

The International Council for Control of Iodine Deficiency Disorders (ICCIDD)
Bangkok, Thailand, August 19, 2004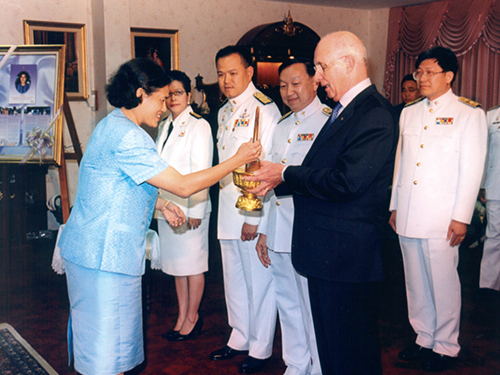 … Throughout her years of royal duties, the Princess has provided dedicated leadership to the program.  The following examples illustrate this prominent characteristic:
Devoting much time and efforts in the country's IDD control programs.
Chaired the National IDD Committee in 1991.  This gesture has generated widespread multi-sectoral involvement and coordination in the country.
Presided over the opening ceremony of the First National IDD Seminar in March 1992.  The theme of the seminar was 'IDD Control in Thailand'.  In her address, the Princess expressed concern that if the problem of IDD is not properly and immediately addressed, the quality of life of millions of Thai people will be deteriorated to the point where the social and economic development and national security would be obstructed.
Chaired the opening ceremony of the Second National IDD Seminar.  The theme was 'Towards the Elimination of IDD in Thailand'.  She made a special presentation on 'Concepts and Experiences in IDD Control Program'.
Presided over the grand ceremony, in 1996 of National Campaign to Eliminate IDD to commemorate the 50th Anniversary of His Majesty the King's Ascension to the Throne.  A gift of salt to commemorate the event was distributed to about 12 million households nationwide to encourage iodized salt consumption among Thai people.
Pays regular annual visits to the Border Patrol Police Schools to personally evaluate the progress and status of the programs.
All these bring to prominence the eminent leadership and the right direction shown by H.R.H. Princess Maha Chakri Sirindhorn.  More importantly, the Princess has acknowledged that better developed human resources in the IDD elimination play an important role in the national development and security.  The grassroots level contacts that she has cultivated have tremendously helped the IDD control program in Thailand to accomplish the present level of success.  The Princess carries with her invaluable learning experiences with exposures to the realities of lives of people since her tender age.
International Council for Control of Iodine Deficiency Disorders (ICCIDD) takes great pleasure in recognizing the superior role played by Her Royal Highness Princess Maha Chakri Sirindhorn towards sustainable elimination of Iodine Deficiency Disorders in Thailand.