In 2006, the pilot project Improving the Quality of Life for Children and Youth was established in schools in Vietnam at the same time it was being implemented in Cambodia and Lao PDR with a collaboration of UNESCO. The project focuses on developing the well-being of the excluded children and youth in the countries.
To start the project, teachers from participating schools received training aimed at strengthening their knowledge and skills in agriculture, food and nutrition, and health and hygiene. Thereafter, the teachers set up the project components in their schools. By applying Her Royal Highness' Agriculture for School Lunch model, a school can produce more agricultural products, thus leading to better nutritious meals. Some participating schools have built new kitchens, so that the children can have meals prepared in a more hygienic environment. In addition, important partnerships have been created. School representatives organized meetings with local officials, parents, and community members to inform them about the project and the need to improve the well-being of school children. This activity resulted in the provision of local funds and technical inputs for the activities. These Vietnamese schools are now considered as models for other nearby schools to learn from and to implement similar activities.

The project reached 1,193 children in three remote schools in three different geographic and cultural settings: mountainous ethnic minority village, lowland village in a flood plain, and a sea-based village. These children are from different ethnic groups such as Kinh, Muien, Dao and Tay.

In May 2011, Her Royal Highness Princess Maha Chakri Sirindhorn visited 3 schools on the mainland and 1 floating school in Halong Bay that is attached to the mainland school that has shown great progress. Recently in May 2015, she paid another visit to Ninh My school in Hoa Lu district, Ninh Binh province. Through these visits, Her Royal Highness found new issues that needed to be addressed. These led to more effective improvement activities, greater opportunities for experience sharing, and, more importantly, greater mobilization among local authorities and high level executive authorities. Without doubt, the ultimate goal of children's well-being will be achieved.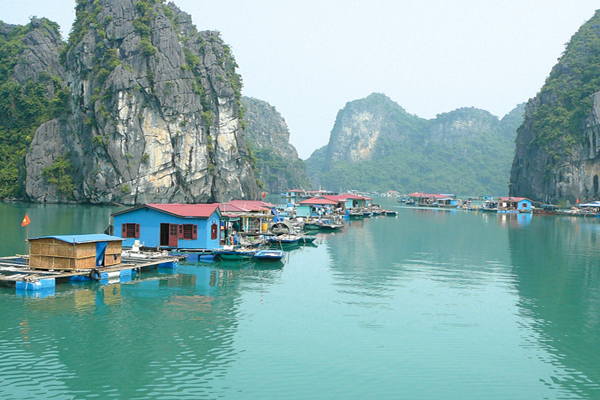 1) Hung Thang Primary & Secondary School
Halong District, Quang Ninh Province
2) Cao Son Lower Secondary School
Da Bac District, Hoa Binh Province
3) Ninh My Primary School
Hoa Lu District, Ninh Binh Province
1) School nutrition and health services
2) School sanitation
3) School agriculture
4) Vocational Education
5) Quality basic education
6) Environmental and Cultural conservation