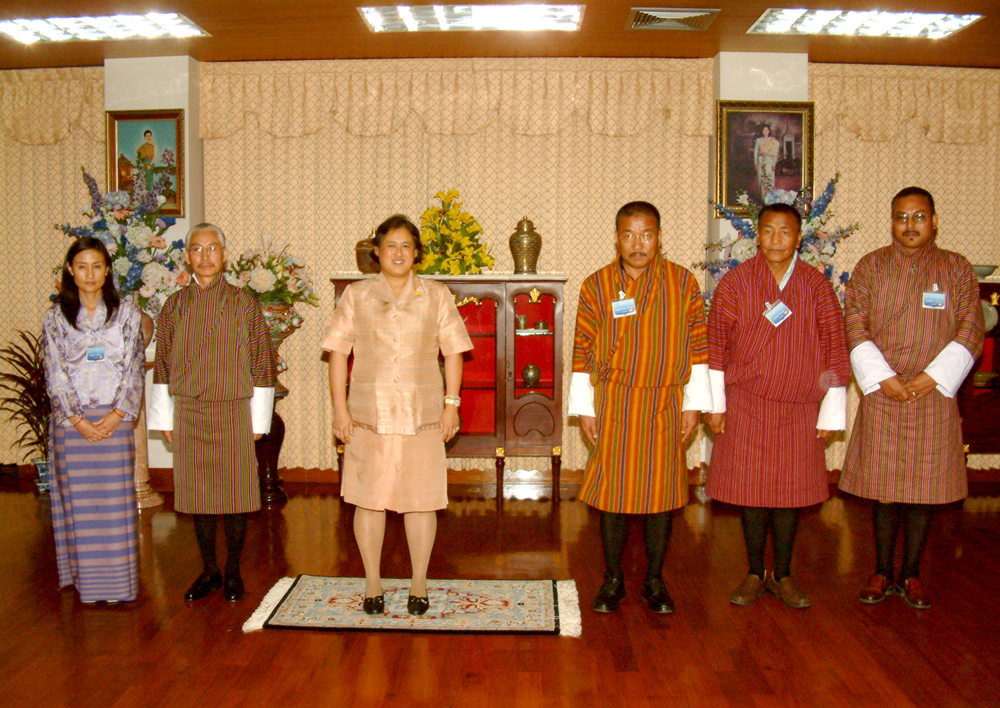 Collaboration with the Royal Government of Bhutan started in 2007 during the period that the Royal Government of Bhutan was in a transition phase of taking over responsibility for the school feeding program from WFP. The Royal Government of Bhutan sought applicable practices appropriate for Bhutan. Upon the request of the Royal Government of Bhutan through the WFP Country Office in Bhutan, Her Royal Highness Princess Maha Chakri Sirindhorn graciously organized a study trip to her Agriculture for School Lunch model during 16-22 December 2007 for a Bhutanese team, consisting of the project managers of the school feeding project in Bhutan, under the Ministry of Education.

Hands-on experiences gained from the study trip have been implemented in Bhutan by the Bhutanese team. Later on, a team of technical advisors from the Office of Her Royal Highness Princess Maha Chakri Sirindhorn's Projects was invited to monitor and provide advice on the project in 2010. Thereafter, three schools were selected to implement the integrated approach model of Her Royal Highness. In order to continue collaboration with the Royal Government of Bhutan and WFP to promote the critical importance of nutrition and education for children, a workshop for school teachers was organized under the patronage of Her Royal Highness Princess Maha Chakri Sirindhorn in January 2012.

The selected schools have shown great progress in agricultural production. In boarding schools, fresh and safe food from school farms can be used to prepare a healthy, balanced diet for three meals. Moreover, community participation has been enhanced as shown by an example of Yurung Middle Secondary School, Pemagatshel district, which shares school agricultural plots with the community. These outcomes reflect a path towards sustainability for school implementation and, in the long-term, towards food security for the entire community. Recently, Her Royal Highness's initiative has been applied in another 3 selected schools in Wangdue, Dagana and Sarpang districts.
1) Yurung Lower Secondary School
Pemagatshe District
2) Genekha Lower Secondary School
Thimpu District
3) Wanakha Lower Secondary School
Paro District
4) Samtengang Primary School
Wangdue Phodrang District
5) Tsangkha Lower Secondary School
Dagana District   
6) Norbuling Middle Secondary School
Sarpang District
7) Shaba Primary School
Paro District
8) Tang Central School
Bumthang District
9) Bitekha Middle Secondary School
Paro District
10) Lharing Primary School
Sarpang District
11) Wolathang Primary School
Punakha District
1) School nutrition and health services
2) School sanitation
3) School agriculture
4) Vocational Education
5) Quality basic education
6) Environmental and Cultural conservation