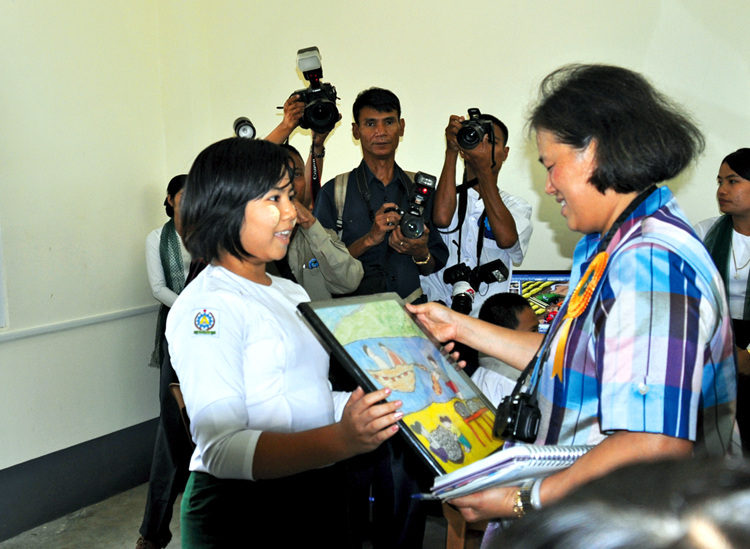 In 1995, the United Nations Development Program (UNDP) and the Ministry of Education, Union of Myanmar Government, officially invited Her Royal Highness Princess Maha Chakri Sirindhorn to provide advice concerning school feeding programs which were planned to be implemented in the Republic of the Union of Myanmar. In response to their invitation, Her Royal Highness organized a study tour for eight teachers from Myanmar for two weeks to experience her Agriculture for School Lunch Project that has been implemented in the primary schools in Thailand. Moreover, Her Royal Highness also provided agricultural tools and seeds to the teachers to help them start the project in Myanmar. In addition, in 1996 Her Royal Highness sent 1.0 ton of 15 varieties of seed to UNDP for schools in the Republic of the Union of Myanmar.
In recognition of the importance of promoting child development, in 2002 a collaboration between the Republic of the Union of Myanmar and Thailand was established under the patronage of Her Royal Highness Princess Maha Chakri Sirindhorn. This collaboration has taken various forms including workshops, seminars, and conferences on issues concerning child development (such as agriculture and nutrition, health promotion, educational development, administration and management of schools, information and communication technology, vocational training, environmental protection, and cultural exchange). There are also exchange visits among Thai and Myanmar personnel, and a Newsletter is published twice a year as a medium for disseminating information and experiences on child development. During 2002 and 2004, three workshops were held in Thailand with an emphasis on school agriculture, nutrition, and education. In total, 59 junior and senior teachers, principals, and administrative officers from 46 schools of the Myanmar Ministry of Education and one school under the Rural and Border Areas Development participated in the workshops. Moreover, Thai project staff also paid 3 visits to 17 schools in Myanmar. In March 2003, Her Royal Highness herself also paid a royal visit to No.(2) Basic Education Middle School in Bago Division. Her visit created greater mutual understanding and partnerships between the two countries to move forward to ensure the well-being of children and youth.

When Myanmar was hit by the cyclone Nargis in 2008, Her Royal Highness Princess Maha Chakri Sirindhorn worked to relieve the suffering. Under the patronage of Her Royal Highness, the Project for the School and Shelter Construction in the Area Hard Hit by Nargis was jointly developed in the beginning of the year 2009. The project site was selected at Kadon Kani village, Bogalay district, Ayeyawady Division. It focuses on: 1) constructing a school and shelter to prevent people from being hit by cyclone in the future, 2) developing appropriate agriculture using the New Theory initiated by His Majesty King Bhumibol Adulyadej, and 3) improving children's quality of life by applying the child development model of Her Royal Highness Princess Maha Chakri Sirindhorn that has been undertaken in Thailand over the past twenty years.

The project started with the construction of the school and shelter, with a capacity of sheltering 500 persons. In parallel to the school construction, another part of the project focused on improving the quality of life of the children and youth in Basic Education High School, Kadon Kani Village, by building the capacity of a Myanmar team. A training program was provided to the team, which consisted of a school principal and four teachers who are responsible for school agriculture, school meals, and school nutrition and health, as well as three officials from local education office. A collaborative action plan was developed at the end of the training. Her Royal Highness provided a seed fund and the necessary tools and seeds for the school to start the project. On 16 March 2010, Her Royal Highness paid a visit to Kadon Kani village to preside over the opening ceremony of the Kadon Kani Cyclone Shelter and visit development activities at Basic Education High School. Later on, a Thai project team visited the school to follow up on the implementation. More collaborative efforts were created, such as the setting up of a vocational curriculum (i.e., agriculture, dressmaking for the higher secondary students). It is estimated that at least 1,133 students will benefit from the project.

Recently in the year 2014, a Myanmar team consisting of principals and teachers from 5 schools in Yangon Division, who had participated in the 2002-2004 collaborative project, as well as educational officials of Ministry of Education and a health official from the Ministry of Health joined the study visit to Her Royal Highness's development projects in Thailand to refresh their knowledge and implementation actions for improving quality of life of children and youth in their schools.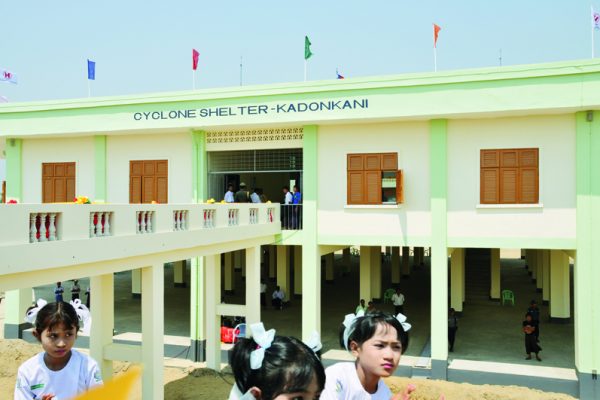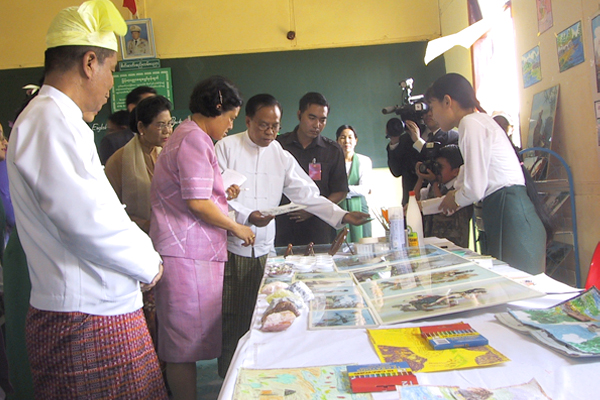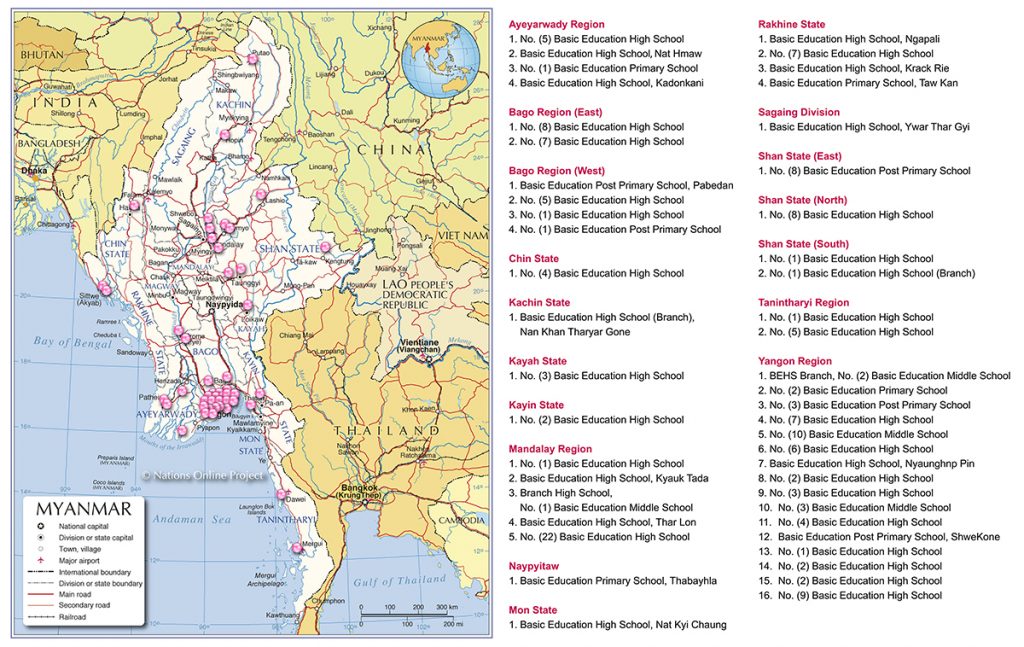 1) No (5) Basic Education High School  Pathein, Ayeyarwady Region
2) No (1) Basic Education Primary School  (Eastward), Nyaung Done, Ayeyarwady Region
3) Basic Education High School  Nat Hmaw, Hintada, Ayeyarwady Region
4) Basic Education High School  Kadonkani, Bogalay, Ayeyarwady Region
5) No (8) Basic Education High School  Bago, Bago Region (East)
6) No (7) Basic Education High School  Bago, Bago Region (East)
7) Basic Education Primary School  Pabedan, Pyay, Bago Region (West)
8) No (5) Basic Education High School  Pyay, Bago Region (West)
9) No (1) Basic Education High School  Pyay, Bago Region (West)
10) No (1) Basic Education Primary School  Ye Twin Kone, Tharyarwady, Bago Region(West)
11) (BEMS Branch), Basic Education Primary School  ZayThit, HarKhar, Chin State
12) (BEHS Branch), Basic Education Middle School  Namkhantharyargone, Moenyin, Kachin State
13) No. (3) Basic Education High School  Loikaw, Kayah State
14) No. (2) Basic Education High School  Hpa Ann, Kayin State
15) Basic Education High School  Kyauk Mee, Pathein, Mandalay Region
16) Basic Education High School  Kyauk Tada, Madayar, Mandalay Region
17) BEHS Branch, No (1) Basic Education Middle School  Pyin Oo Lwin, Mandalay Region
18) BEHS Branch, Basic Education Middle School  Thar Lon, Myit Thar, Mandalay Region
19) No.(22) Basic Education High School  Chan Aye Than Zan, Mandalay Region
20) No (15) Basic Education Primary School  Thabayhla, Pyinmana, Naypyitaw
21) Basic Education High School  Nat Kyi Chaung, Paung, Mon State
22) Basic Education High School  Ngapali, Than Twe, Rakhine State
23) No (7) Basic Education High School  Sittwe, Rakhine State
24) Basic Education High School  Khet Yay, Myebon Township, Rakhine State
25) Basic Education Primary School  Taw Kan, Minbya, Rakhine State
26) Basic Education High School  Ywar Thar Gyi, Wet Let, Sagaing Division
27) No (8) Basic Education Primary School  Kyang Tone, Shan State (East)
28) No (8) Basic Education High School  Lashio, Shan State (North)
29) No (1) Basic Education High School  Naung Shwe, Shan State (South)
30) BEHS (Branch), No (1) Basic Education Middle School  Kalaw,  Shan State (South)
31) No (1) Basic Education High School  Dawei, Tanintharyi Region
32) No (5) Basic Education High School  Ingamaw, Myeik, Tanintharyi Region
33) BEHS Branch, No (2) Basic Education Middle School  Bo Ta Htaung, Yangon Region
34) No (2) Basic Education Primary School  Kamaryut, Yangon Region
35) No (3) Basic Education Primary School  Bahan, Yangon Region
36) No (7) Basic Education High School  Hlaing Thar Yar, Yangon Region
37) No (10) Basic Education Middle School  North Oakkalapa, Yangon Region
38) No (6) Basic Education High School  Ahlone, Yangon Region
39) Basic Education High School  (Branch), Nyaung Hnit Pin,  Hmaw Bi, Yangon Region
40) No (2) Basic Education High School  Dagon, Yangon Region
41) No (3) Basic Education High School  Kyee Myint Dine, Yangon Region
42) No (3) Basic Education Middle School  Bahan, Yangon Region
43) No (4) Basic Education High School  Mayangone, Yangon Region
44) Basic Education Primary School  ShweKone, Kyauk Tan, Yangon Region
45) No (1) Basic Education High School  ThoneKhwa, Yangon Region
46) No (2) Basic Education High School  HlaingTharYar, Yangon Region
47)  No (2) Basic Education High School  Mingalardon, Yangon Region
48) BEHS Branch, No (7) Basic Education Middle School  Mingalardon, Yangon Region
1) School nutrition and health services
2) School sanitation
3) School agriculture
4) Vocational Education
5) Quality basic education
6) Environmental and Cultural conservation